Learn more about why the 2020 Senior Bowl will be…
5 min read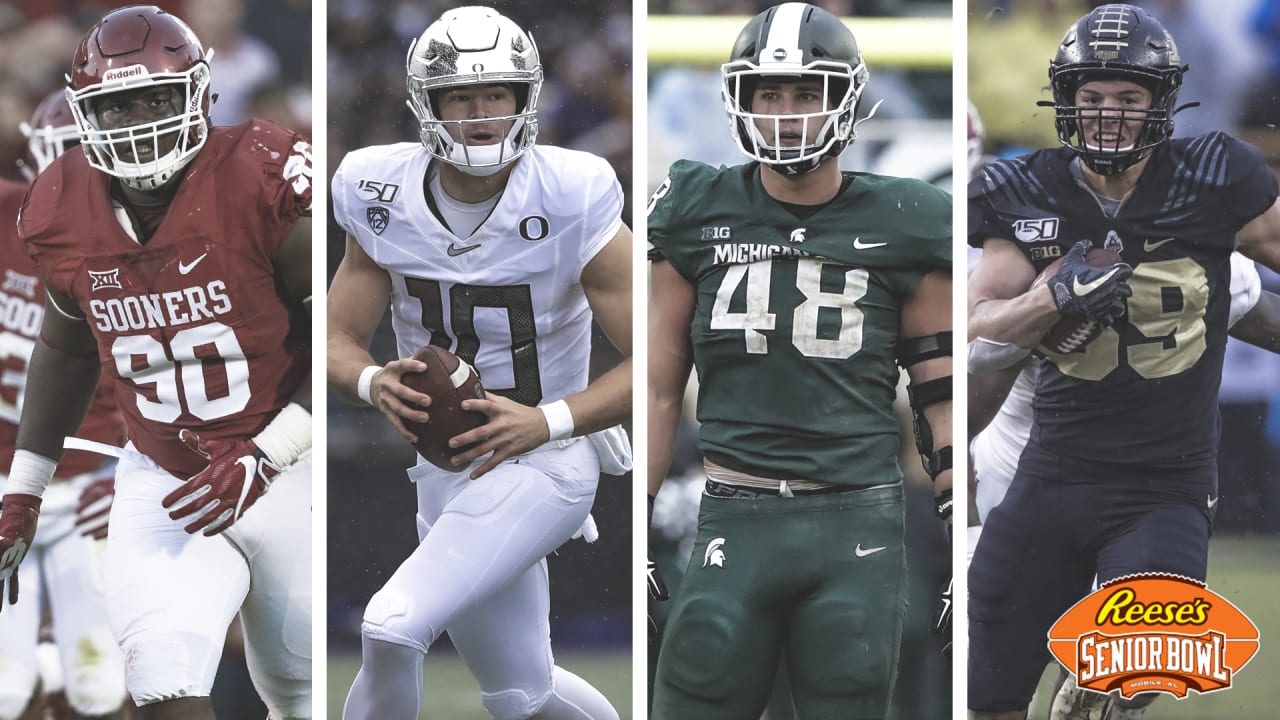 Players To Watch
The following 2020 Senior Bowl players all have traits that could be attractive to a team like the Colts, whether they play a perceived position of need heading into the draft or are player who fits what the team typically looks for:
Trey Adams | Offensive Tackle | Washington — This is mostly dependent on the future of Colts' left tackle Anthony Castonzo as he weighs his future moving forward. Colts offensive line coach Chris Strausser and former senior offensive assistant Howard Mudd's connection to the Huskies may have Adams circled as a potential target for the Colts. He shows off nice power and locks onto defenders in the run game. And while he has great size and length at 6-7, 306, some bendy edge rushers have shown they can use his height to their advantage as they duck under his reach. His issues appear coachable, and the 1-on-1 O-line vs. D-line drills could be big for him down in Mobile.
Brandon Aiyuk | Wide Receiver | Arizona State — The Colts want to create yards after the catch in their offense, and Aiyuk was one of college's best. He's got decent size (6-1, 195) and speed, but he's also got strong hands and runs very crisp, diverse routes. These abilities also spill into his skills as a return specialist, as he averaged 31.9 yards per kickoff return and 16.1 yards per punt return with a touchdown in 2019.
Ben Bredeson | Guard | Michigan — The Colts already have one of the best offensive lines in the league, but consistently addressing it and finding players who can help out is what keeps it that way. Bredeson has very few blemishes to his game, and he is a technically-sound, physical blocker that has the nasty edge you're looking for in an offensive lineman.
Chase Claypool | Wide Receiver | Notre Dame — Watching Claypool perform on the field, it's easy to draw parallels to a player like current Colts wide receiver Devin Funchess. Claypool is big for a receiver at 6-4, 229 (and his build shows it), but he also has enough speed and athleticism for the receiver position. He is very tough with the ball in his hands, but he needs more polish as a route runner and when it comes to attacking the ball in the air.
Kristian Fulton | Cornerback | LSU — Tape already shows Fulton is a good player, but teams will want to get to know the person down in Mobile more than the player. He was suspended for the 2017 season for allegedly tampering with a drug test, but there doesn't seem to have been any reported issues otherwise. As a player, he offers adequate size and physicality — sometimes the latter can be even to a fault. However, his athleticism and movement ability shows a player that's sticky in coverage.
Neville Gallimore | Defensive Tackle | Oklahoma — Gallimore may be 300 pounds, but he doesn't move like it. He plays like a defensive end in a defensive tackle's body, covering a lot of ground in a hurry and also using a nice set of pass-rush moves, including a spin. His motor runs high, and he gives blockers fits throughout the game.
Antonio Gandy-Golden | Wide Receiver | Liberty — Big, athletic receivers are like gold when you can find a good one, and a solid outing at the Senior Bowl could put a big target on this small-school prospect's back come draft time. At 6-4, 220, Gandy-Golden has the size to win most matchups, and he plays like his size would indicate when the ball is in his hands.
Nick Harris | Guard | Washington — Another Strausser/Mudd Washington connection, Harris is a beast in the middle of the line. Although he's a center and the Colts are all set there, interior offensive linemen transfer positions often after being drafted to best suit the needs of the team. Harris has a nasty streak in the run game, and he's also shown the ability to get out and lead block in the open field.
Justin Herbert | Quarterback | Oregon — Herbert has the size and arm talent that any team would want in their quarterback, but he's got some inconsistencies in his game to iron out. However, this is a chance for Herbert to take charge of a new group of players and show that he can lead. He was once considered a likely top-five pick in this draft, but an up-and-down 2019 campaign has him potentially available in the teens where the Colts currently sit.
K.J. Hill | Wide Receiver | Ohio State — The Colts love players from Ohio State, and they need to add depth at the wide receiver position. A year after selecting Hill's former teammate, Parris Campbell, in the second round of the NFL Draft, they could find themselves enamored with Hill. He's got average size at 5-11, 195, and he doesn't have Campbell's speed, but Hill is is already a very well-rounded receiver, runs crisp routes, is tough and plays the game naturally.
Brycen Hopkins | Tight End | Purdue — The Colts are likely to move on from tight end Eric Ebron this offseason, which leaves a hole in their offense as a downfield pass-catching threat from the tight end position. Hopkins is one of the top tight ends in this draft, and brings a well-balanced approach as a willing and capable blocker as well as one who can stretch the field a bit as a pass-catcher.
Javon Kinlaw | Defensive Tackle | South Carolina — When Kinlaw isn't beating linemen by being quick off the snap, he's bullying them with his strong punch and ability to create separation with his arms. It not only helps him get into the backfield, but also stalk running backs as they enter the trenches.
Jordan Love | Quarterback | Utah State — Like Herbert, there's a ton of potential there with Love, but you're looking for more consistency. Love also isn't quite as pro-ready as Herbert, which leaves the possibility that he could benefit from sitting for part or all of his rookie season. Still, Love can make extraordinary plays and throws. Pairing him with a team that has a quarterback guru on staff could totally unlock his potential.
Prince Tega Wanogho | Offensive Tackle | Auburn — If the Colts need the services of a new offensive tackle, then Wanogho could be available near the top of the second round. He's a mauler in the run game, is nimble enough on his feet and can cover a lot of ground in his kickslide to handle talented pass rushers off the edge.
Kenny Willekes | Edge Defender | Michigan State — Willekes has shown signs of being a game-wrecker in the past, and his style of play and football I.Q. shows that it could carry over to the NFL and help him be a productive player. He's not a super-athletic, bendy edge rusher, but he knows how to use his hands and leverage to get himself off of blocks, and he's very good at setting up offensive tackles before engaging to get past them.
https://www.colts.com/news/2020-senior-bowl-players-to-watch