Final Roster Cuts Present 'Tough Couple Of Days'…
3 min read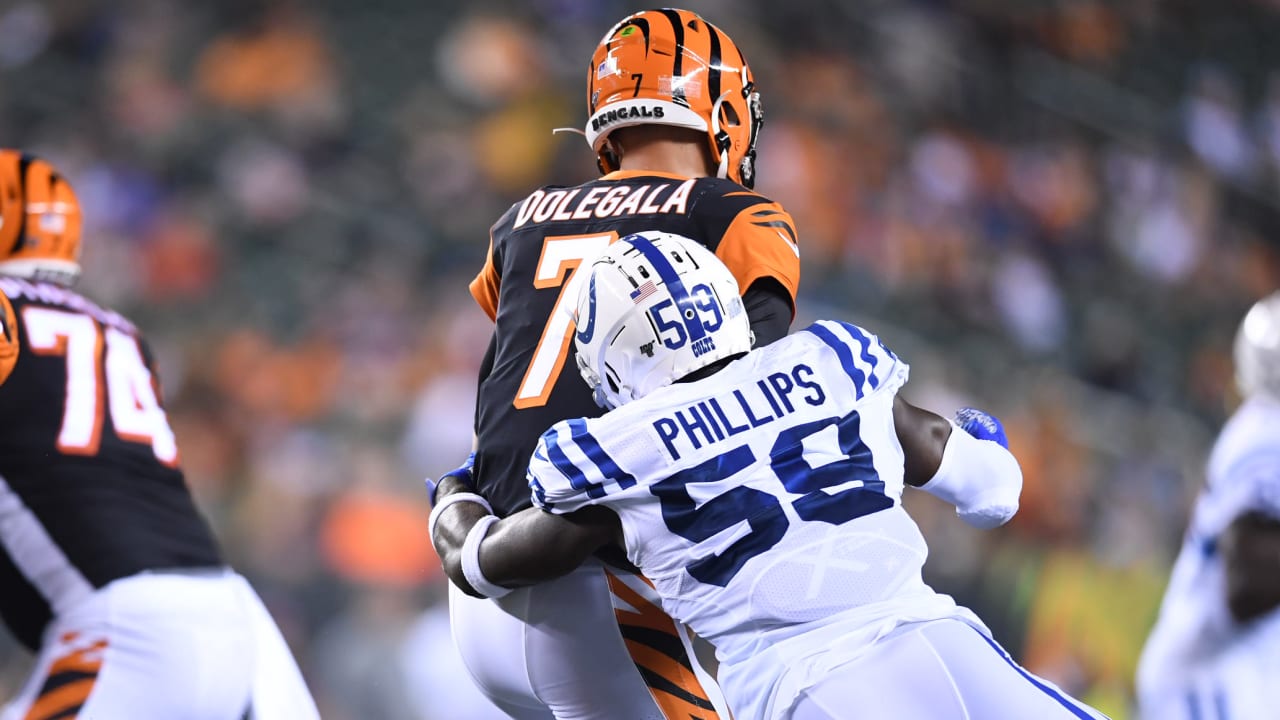 Several other players on the bubble put in quality performances in Thursday's preseason finale. Here are some of their thoughts heading into final roster cuts:
» "My outlook is to keep on getting better. Whatever I can control, I'll control, and then it's up to the coaches to decide what they want to do. But I'm confident in how I played this preseason, and, like I said, I'm trying to get better each and every day, each and every rep, whether it's a practice or a game." — Quarterback Chad Kelly, who completed 54-of-73 preseason passes (74 percent) for 583 yards with two touchdowns and two interceptions, while also running the ball 10 times for 107 yards and two scores. Kelly faces a two-game suspension to open the regular season, but could be a candidate for the Colts' backup quarterback job upon his return.
» "I feel like I've done my best. I've gone hard, I tried to put into these coaches that they can trust me, so now the rest is in God's hands — well, in their (the coaches') hands, really." — Cornerback Marvell Tell III, who tied E.J. Speed for team-high honors with eight tackles and had a game-best three passes defensed Thursday against the Bengals. Tell III, a fifth-round pick by the Colts this year out of USC, has converted from safety to cornerback and finished tied for fourth on the team with nine preseason tackles, while his five passes defensed were the best on the team by three PDs.
» "I'm going to take this time to help my body recover, and ultimately, man, it's their decision how they want to form the roster. Obviously I love being a Colt; I want it to all work out. But ultimately, yeah, it's their decision, so I'm going to take this time to let my body heal up and be ready. On my mind right now is just (the) Chargers." — Tight end Ross Travis, who was targeted seven times on Thursday and had three receptions for 20 yards against the Bengals. Travis, who had five catches for 50 yards and a touchdown in three preseason games, worked all the way back from a season-ending torn ACL suffered last year in the final minutes of the Colts' preseason finale, also against the Bengals at Paul Brown Stadium.
» "There was a lot of times I had some doubts — I think as a lot of people do. Especially going into such a great tight end room. But obviously it's not done yet. You know, I could still be out here, and we'll see. But I was pleased with what I've done, and I felt like I showed that I can contribute in this league in some fashion, and we'll see what happens from here." — Tight end Hale Hentges, who hauled in seven catches for 80 yards, as well as a two-point conversion, in four preseason games, including one reception for 18 yards Thursday against the Bengals. Coming from Alabama, where he was known more for his blocking than his abilities as a pass catcher, Hentges is hoping extend the Colts' NFL-long streak of undrafted rookies making the Week 1 roster to 21 consecutive years.
» "Definitely. You wanna come out and showcase your skills and show your value. So every day I really try to come out and do that — try to make it hard — so that's what I planned on doing, so I think I did it." — Linebacker Skai Moore, who had a strong outing Thursday against the Bengals, finishing with two tackles and a special teams stop, and coming up with the play of the day for the defense. With the Bengals facing a 4th and Goal from the Indianapolis 1-yard line, Moore sniffed out the run play by Quinton Flowers and stuffed him for a loss of one, turning the ball back over to the offense, which was eventually able to run out the clock and earn the victory.
https://www.colts.com/news/final-roster-cuts-present-tough-couple-of-days-for-colts-coaches