Colts' Passing Game Opens Up In Week 3 Win Over…
3 min read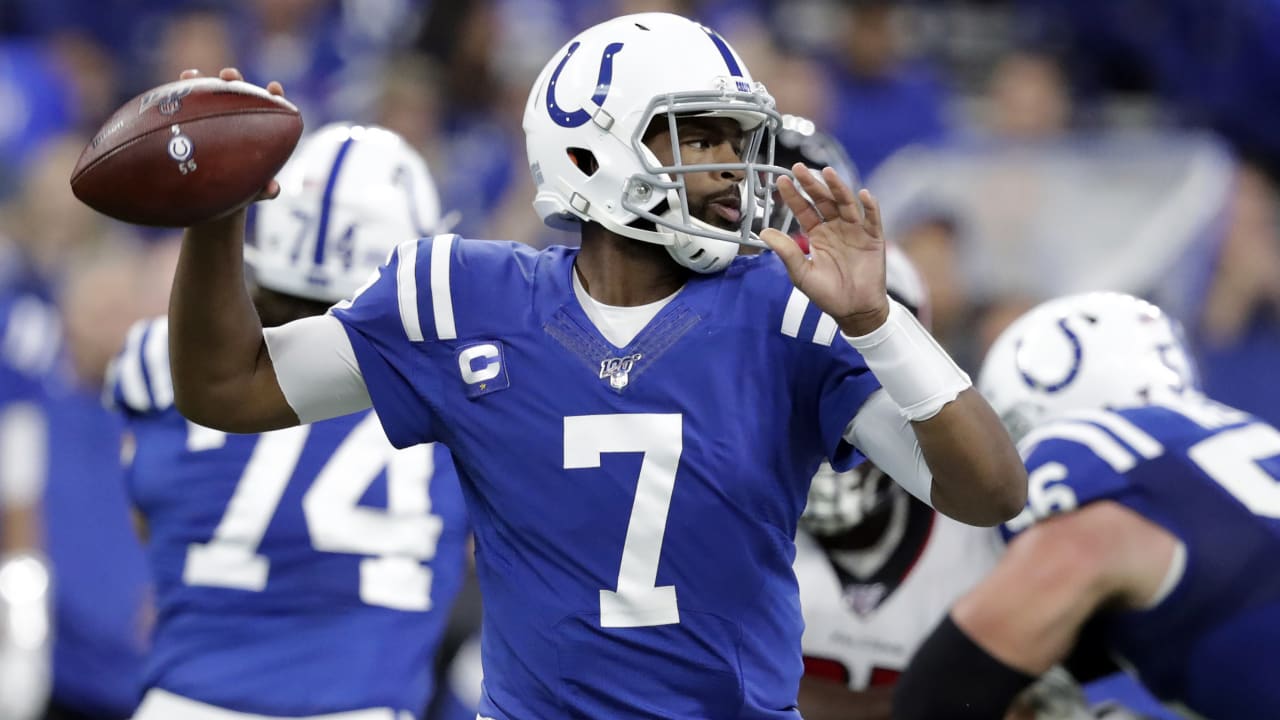 After passing for 190 and 146 yards in the first two games, respectively, Brissett had 218 yards alone in the first half on Sunday against Atlanta, finishing with 310 on the day on a single-game career-high 28 pass completions. Their passing attack helped allow the Colts to score on their first four possessions of the game, which was every possession in the first half.
"I was feeling like everybody was open (laughs)," Brissett told reporters after the game. "So I was throwing it to 'em, throwing it to people with my-colored jerseys. We did a good job — and I probably didn't get sacked in the first half, either. It was just one of those days."
Brissett opened the game with 16 consecutive pass completions, which is now tied for fifth in Colts' franchise history with Peyton Manning. Brissett's 75.7 completion percentage (28-of-37) and 310 passing yards were both his second-best marks in a single game (in which he attempted 25 passes).
With the success that the Colts had early in the season in the run game — they were tied for second in the league with an average of 185 yards per game on the ground coming into Sunday's contest — Atlanta (1-2) focused primarily on stopping Marlon Mack and the Colts' rushing offense, forcing Brissett and the Colts to beat them through the air. And the Colts did just that.
"They did sell out to stop the run, and then part of it was Jacoby was just on fire," Colts head coach Frank Reich said about what allowed the Colts' passing game to be so effective. "It's just kinda like when we're running it and we're gaining yards every time we call a run, when the quarterback gets hot like that, we've gotta have the flexibility as an offense to ride the hot hand, and this week it was Jacoby."
Before exiting the game at halftime after aggravating a quad injury that limited him in practice throughout the week, Hilton was Brissett's go-to man, catching 8-of-10 targets for 65 yards and the score.
The tight ends also got more involved in the passing game on Sunday than they had been in the first two weeks, as Jack Doyle, Eric Ebron and Mo Alie-Cox combined to catch nine passes for 118 yards. Those three players had combined to catch just seven passes on 12 targets the first two games of the season.
"No, we just tried to get the ball to our playmakers, pretty much," Ebron said when asked if there was an emphasis this week on getting the tight ends more involved. "I just kinda knew the tight ends were gonna have a big day because they (Atlanta) like to play man-to-man, and I'll take my room over any room in that sequence any day. I just knew we were gonna have a big day, and we just had to cut our hair and do that for Jacoby."
As the Colts currently sit over .500 at 2-1 — seemingly a far cry from where they were headed this time last season — their new quarterback's efficient play is a big part of what has the offense, and the team as a whole, in this position.
"We don't really decide that until tomorrow, but I can tell you right now Jacoby's gettin' a game ball. He played unreal," Reich said. "You can't play quarterback much better than he played today."
https://www.colts.com/news/passing-game-atlanta-falcons