Alan Ameche's Game-Winner In 'Greatest Game Ever…
2 min read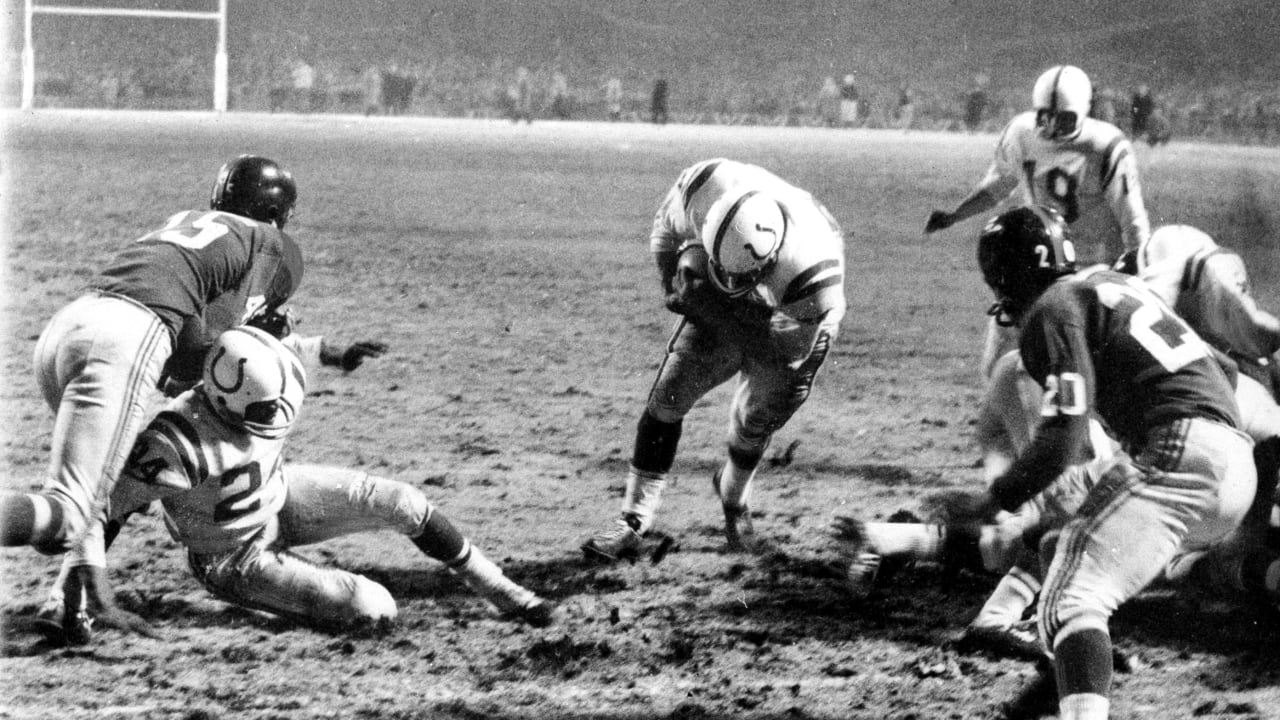 It's the second Colts play to land on the list; tight end John Mackey's improbable 64-yard touchdown catch and run against the Detroit Lions from Nov. 20, 1966, was ranked as the 40th greatest play in NFL history.
The 1958 NFL Championship Game, meanwhile, is considered such a landmark event because it really marked the beginning of football's rise to becoming the most popular sport in the United States. This was helped tremendously by the fact that NBC televised the game to about 45 million viewers nationwide.
Both the Colts and the Giants came into the game with identical 9-3 records, although New York got the best of Baltimore (which was without star quarterback Johnny Unitas at the time) 24-21 in Week 7 of the regular season.
The Colts, who dominated the first two quarters and went into halftime with a 14-3 lead, would see the momentum slide the Giants' way early in the third quarter, when Ameche was stuffed for a loss of five on 4th and Goal from the 1.
New York would need just five plays to go 95 yards, cutting Baltimore's lead to four at 14-10 with a Mel Triplett one-yard touchdown run, and then took the lead, 17-14, on a 15-yard touchdown pass from Charley Conerly to Frank Gifford.
After several back and forths between the two teams, Unitas would engineer one of the most famous drives in league history, getting the ball to the New York 13-yard line, where Steve Myhra knocked in a game-tying 20-yard field goal with seven seconds left to send the game into overtime — the first of its kind in NFL playoff history.
The Giants won the toss but had to punt on their opening possession, and Unitas went to work again, driving the Colts 80 yards in 13 plays. That 13th play, of course, was Ameche's one-yard, game-winning touchdown run, sending the crowd — and millions of viewers at home — into a frenzy.
https://www.colts.com/news/alan-ameche-s-game-winner-in-greatest-game-ever-played-ranked-19th-best-play-in-